CP Group and Impact Air announce their exclusive partnership in USA, Canada and Mexico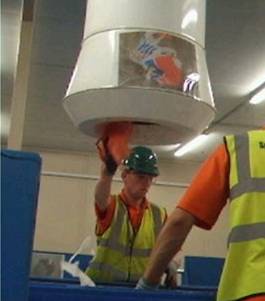 January 18, 2012
The CP Group, San Diego, CA and Impact Air, Leicester, UK, announce the formation of their exclusive partnership in the US, Canada and Mexico. The CP Group now includes in their systems Impact Air's equipment whenever applicable.
The CP Group engineers, manufactures and installs material recovery facilities internationally.  The CP Group offers a wide range of equipment for single stream recycling, waste to energy, construction and demolition, municipal solid waste, e-waste, and green waste sorting systems.
Impact Air has developed and offers solutions to support fully automated material recovery systems. Their systems use air to convey dust and dry materials such as foil, film, and fractions of paper and plastic that can otherwise be very costly and difficult to remove from the material streams.
The CP Group can now directly offer customers an increased product line including air systems solutions from one of the leading providers of this technology, Impact Air.
Impact Air's advanced Film Vac system consists of a series of specially designed material collection hoods which are usually mounted above the sorting belts and used to transport handpicked material, reducing labor costs and eliminating the need for transfer conveyors and additional storage bunkers. The Air Knife Separator by Impact Air removes low value "light" fractions from the material stream. The CP Group is proud to be able to offer these solutions to our customers.
Gary Price, General Manager, CP Manufacturing says, "We have worked with Impact Air for several years now through our UK branch, CP Manufacturing Europe, and have developed a strong relationship. Recently we have formed an exclusive agreement, focusing on further developing Impact Air products for the recycling industry. We look forward to continuing this partnership and expanding these resources into the market to provide better solutions to our existing and future clients."
Impact Air's recycling solutions are now represented in the North America exclusively by the CP Group, expanding their market, increasing their product visibility as well as sales.
Terry Ward, Technical Sales Manager of Impact Air says, "Having worked with CP Group for a number of years the relationship between the two companies is very strong and successful.  The business and technical approach of CP Group and Impact is very similar which makes working together so easy."
Ward continues, "Impact Air manufactures a range of air systems, and each system is tailored to compliment the overall CP Group package.  We can now jointly and specifically develop solutions for each customer because of the localized sales and engineering support CP Group is able to provide.  We look forward to improving and continuing our successful partnership."
The CP Group is comprised of CP Manufacturing, Krause Manufacturing, MSS and IPS Balers. To get more info about the CP Group please visit www.theCPgrp.com.  To get more info about Impact Air please visit www.impactair.co.uk.