Disc screens modifications are designed to improve overall safety during operation and maintenance.
September 8, 2011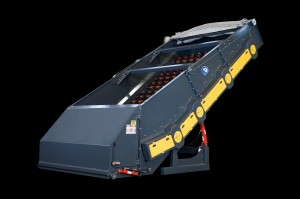 CP Manufacturing, based in San Diego, has released newly designed disc screens designed to improve safety and productivity for users. The screens are used to automatically separate newspaper, containers and mixed paper in material recovery facilities (MRFs).
"This latest screen style represents feedback from our customers in every area, with a major focus on safety, access and extremely low maintenance," says Jim Weller, CP design engineer and research and development manager. "Screen technology has been around for quite a while now, and—like the piston engine in your car—it can always be improved," he continues. "We think we have a Ferrari here—or very close to one."
Weller received WASTEC's 2010 Engineering Employee of the Year Award.
Katlynn Freeley, regional safety manager at ReCommunity Recycling, says, "The folding floor in the CP screen and NEWScreen is a great new mechanism to keep employees safe during maintenance, helping to ensure there are no fall hazards."
The folding floor is one of many improvements CP has made to make operation, cleaning and maintenance of its disc screens safer, according to the company. At the platform level, CP has added access doors in the tail section, eliminating the need for ladders.
"We have a great team of designers here at CP, and I feel we have achieved a screen design that is something we can all be proud of," Weller says.
Additional safety features include a flexible cover that can be moved using an electric motor, mechanical backstops to lock rotors for cleaning, lanyards that can be attached to crossbars for easy access by maintenance personnel and a trapped-key system that is designed to improve the existing lock-out/tag-out system.
"The new key-lock system is a fail-safe way to make sure the screen cannot be started during maintenance," ReCommunity's Freeley says. "You cannot turn on the equipment unless both keys are in place—in order to get inside to do maintenance, you need to take one of the keys out of the MCC; this ensures the power is off."
CP Manufacturing is a part of the CP Group, a supplier to the solid waste and recycling industries. The CP Group consists of CP Manufacturing, MSS Inc., IPS Balers and Krause Manufacturing. More information is available at www.cpmfg.com.